It's been about three years since the third season of Netflix's comedy drama Glow came out on the streaming platform. Since fans have been waiting for Glow season 4, Netflix renewed the series in September 2019. But even after three years, fans know very little to nothing about Glow season 4. So if you're also wondering where is the fourth season. Here's everything you need to know.
Developed by Liz Flahive and Carly Mensch, Netflix's Glow is a comedy drama series that debuted in 2017. Set in the 1980s, the show revolves around the lives of the members of the women's wrestling circuit known as Gorgeous Ladies of Wrestling of GLOW.
Is Glow Season 4 Coming?
The third season of Glow premiered on Netflix on August 9, 2019. In September 2019, Netflix officially gave the series the green light for a fourth and final season. However, Netflix stated in October 2020 that it had changed its renewal decision and decided to discontinue the series. The reason behind the cancellation was the difficulty in production during the COVID-19 epidemic.
Given that GLOW had occasional close, physical contact as part of a wrestling match, it seems viable. Fans were surprised and disappointed by the decision as they had hoped for a full sequel. However, it is unlikely that Glow Season 4 would ever return. So we advise the fans of the show to move on.
Glow Season 4 Potential Storyline
Season 3 of GLOW ended with yet another big paradigm shift for the show. They were able to buy a television network in Los Angeles because of Debbie's astute ambition and Bash's wealth. This will allow Debbie to become the president of a network and write her own ticket. And decide about a better future for all women of GLOW.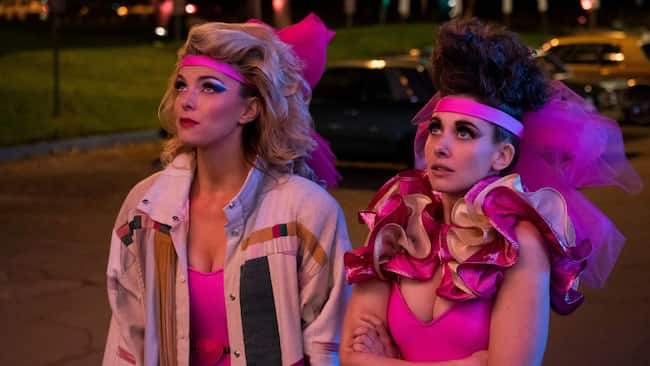 GLOW will most certainly leave Las Vegas and come to Los Angeles because of this. However, it also means that the GLOW women will construct much-needed new wrestling identities, resulting in a new GLOW image. At the same time, this is an important break with GLOW's real past.
When GLOW Season 4 premieres, we'll find out what happens next in the characters' lives. Ruth refused to commit to Debbie's new strategy and appeared to be leaving GLOW. Additionally, Sam dropped out of GLOW midway through Season 3 to join his daughter Justine in her burgeoning film career, bringing the two closer than ever. When GLOW returns for a fourth season, it could be a very different show. However, it will feature the same group of charming misfits.
Cast Details!
In Netflix's comedy drama series, Mad Men, famed Alison Brie, stars as Ruth "Zoya the Destroya" Wilder. Meanwhile, Betty Gilpin also stars Debbie "Liberty Belle" Eagan and Sydelle Noel as Cherry "Black Magic" Bang. Plus, there's Britney Young as Carmen "Machu Picchu" Wade, Marc Maron as Sam Sylvia, and Britt Baron as Justine "Scab" Biagi.
In addition, the cast also includes Kate Nash as Rhonda "Britannica" Richardson, Gayle Rankin who plays Sheila "the She Wolf" and Kia Stevens as Tammé "The Welfare Queen". Not to mention Jackie Tohn as Melanie "Melrose" Rosen, and Chris Lowell as Sebastian "Bash" Howard. If the series returns with Glow season 4, most of these protagonists will likely be back in their roles. Plus, we may also see some new faces in the potential fourth season.
Also read Glow Season 4: Will it return! Is there any hope? All the latest details