Without any surprise, Ted Lasso has become a fan favorite in a very short time. On the other hand, the show is also getting accolades and critical acclaim at the same time. So it's only natural for fans to be head over heels excited for Ted Lasso Season 3, which has already started filming.
Apple TV's comedy drama show Ted Lasso debuted on the streaming service in August 2020. Created by Jason Sudeikis and Brendan Hunt, the series revolves around the titular American football (rugby) coach, who is hired to coach a football team in England.
What will the storyline of Ted Lasso season 3 be?
Fans eagerly await Ted Lasso's season to return and reveal what's next in the story. However, while they wait for the next season, showrunners have dropped some hints about the next season. Producer Liza Katzer said during an interview about the fourth season: "I think it's just more what everyone likes. And what has worked and just going deeper into the characters".
In addition, another showrunner, Kip Kroeger, said, "It goes deeper into the backstories. You know, we're going to get a little more information about where they came from." And if that wasn't enough, Declan Lowney weighed in on his comments too. He stated, "And if you know those guys, there will no doubt be a lot of surprises. Things you didn't see coming, some curveballs there."
Who will star in the third season?
The cast of Apple TV's Ted Lasso includes Jason Sudeikis in the title role and his assistant, Coach Beard, is played by Brendan Hunt. The show also stars Hannah Waddingham as Rebecca Welton, Roy Kent is played by Brett Goldstein, and Nick Mohammed plays Nathan Shelley. In addition, we have Jeremy Swift as Leslie Higgins and Juno Temple as Keeley Jones. And Sam Obisanya, played by Toheeb Jimoh.
Furthermore, the cast also includes Phil Dunster, Kola Bokinni, Stephen Manas and Billy Harris, among a few others. When the show returns with Ted Lasso season 3, most of these protagonists will likely be back in their respective roles. At the same time, the third season may also bring some new faces to the show.
Ted Lasso Season 3: Release Date!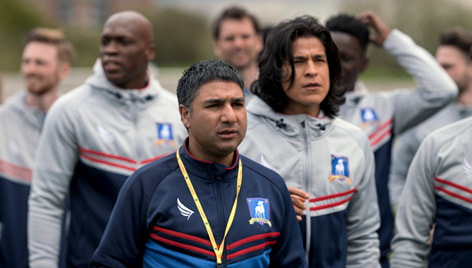 Ted Lasso Season 2 completed its run on Apple TV+ on October 8, 2021. And even before the second season started, Apple Tv renewed Ted Lasso for a third season in October 2020. Meanwhile, in March 2022, it was confirmed that production for the season had begun. . And that is currently underway.
Now, talking about the release date during an interview, Cristo Fernández said: "Hopefully the fans will enjoy our season 3, which will hopefully also be released at the end of the year." So taking his work into account, we expect season 3 of Ted Lasso to come out around the end of 2022.
Nate kissed Keeley!
After being instructed by Keeley and Rebecca how to be more powerful. But Nate gained confidence, but he went too far with his newfound knowledge. Nate kissed Keeley as he put on suits because he had misinterpreted a moment between them. Keeley had an affiliation with Roy and had previously thought that she and Nate were just friends. So the kiss was not appreciated by Keeley. She thought the mistake was innocent at the time, but then Roy wasn't afraid of Nate. It made him want to infuriate Roy even more.
Also Read Ted Lasso Season 3: Will Nate's Redemption Come In Season 3? Release in 2022?