America may have one of the strongest armies in the world, but it can't hurt to have some old witches by your side with all their magical might. Even if this is far from reality, it certainly makes up for a great TV series. Yes, we're talking about Freeform's Motherland Fort Salem as we prepare for the release of the upcoming Motherland Fort Salem Season 3.
Created by Eliot Laurence, Motherland Fort Salem is a supernatural drama series that debuted on Freeform in 2020. The plot revolves around the 300-year-old practice of enlisting witches in the military. The Salem witch trials came to an end after the witches reached an agreement with US authorities.
What can we expect from Motherland Fort Salem season 2?
With the Spree's leader arrested this season, it's clear that the Camarilla and his witch hunt will be the focus of the show's third season. The second season works hard to develop the personal vendettas of various individuals against the Camarilla. Because of what they did to Abigail's cousin Charvel, Abigail still despises them. The Mycelium was born when Alder witnessed the slaughter of her coven. Scylla and Anacostia have both seen the Camarilla deal with youths who show signs of witchcraft.
With Willa's murder, Raelle is sure to join them, meaning practically every witch has a personal motivation to hunt them. The result is a united front. Raelle can now talk to the Mycelium through her mother's ghost. That will no doubt be crucial when attacking Camarilla or protecting her loved ones from them.
The overthrow of General Alder's military authority by Petra Bellweather will no doubt be explored in the third season. Despite opposition from Tally and others, it's clear that Alder isn't ready to give up power so easily. In Motherland Fort Salem Season 3, Alder will definitely try to regain her status.
Cast Details!
The cast of Motherland Fort Salem includes Jessica Sutton as Tally Craven and Ashley Williams as Abigail Bellweather. And Taylor Hickson as Raelle Collar. The show also stars Lyne Renée as Sarah Alder, Amalia Holm as Scylla, and Catherine Haggquist as Petra Bellweather. Plus, Demetria McKinney stars as Anacostia. Quartermaine Emilie Leclerc plays Izadora and Tony Giroux plays Adil.
In addition, there is Kylee Brown as Khalida, Praneet Akilla as Gregorio, Ess Hödlmoser as M and Arlen Aguayo-Stewart who plays Nicte Batan. When the series returns with Motherland Fort Salem season 3, most of the main protagonists will be back in their roles. At the same time, we may also see some new characters in the next season.
Motherland Fort Salem Season 3: Release Date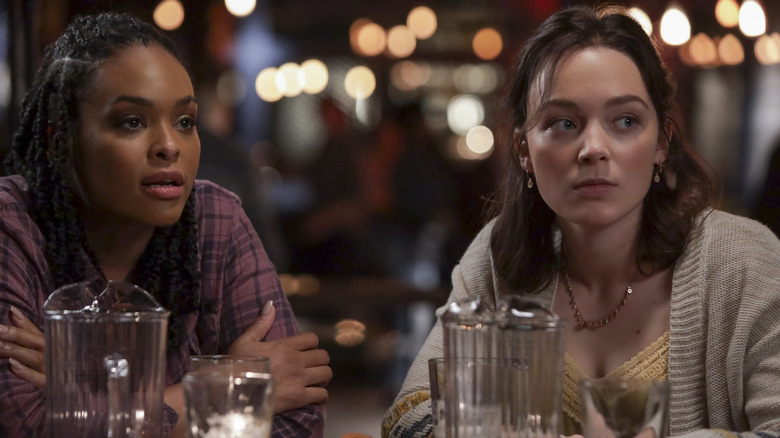 The third season of the series premiered on Freeform on June 22, 2021. The season concluded with the finale falling on August 24, 2021. As for Motherland For Salem, the news will make fans happy. In August 2021, Freeform renewed the series for a third season.
Speaking about the revamp, Freeform president Tara Duncan said, "We're excited to bring 'Motherland: Fort Salem' back for a third season. I am grateful to Eliot and the entire Motherland team. They have created a truly compelling mythology that has resonated with fans since day one. And I know that this final chapter will continue to deliver results." Meanwhile, the season has wrapped up its production and post-production and is really going to hit our screens. Motherland Form Salem will premiere on Freeform on June 23, 2022.
Also Read Motherland Fort Salem Season 3: Release Date Out! Raellle joins the ranks after Willa's death